Walking for charity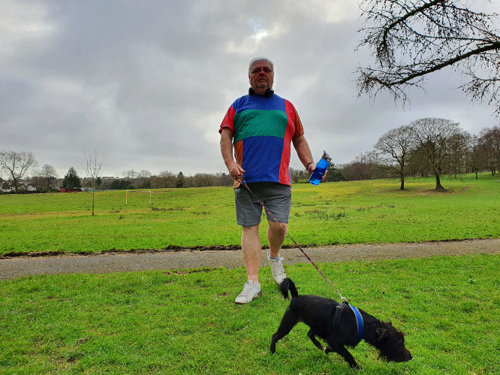 Normally the Chair of Council holds various events to raise funds for their chosen charities during their year in office. Unfortunately, due to the Covid 19 pandemic that has not been possible.
However, to try and raise some vital money for my two charities – Prostate Cancer UK and St Peter's Church, Llanybydder, I intend to walk 30 miles before the end of my term in May. I have already started the walk, and . I have a fitness tracker watch which will record the mileage I do. And as you will see from the photo, keeping me company is Susie.
I would have taken part in the traditional Council organised Walrus Dip on Boxing Day last year, but that had to be cancelled. If travel restrictions are lifted before May, I intend doing my own 'Dip' in the sea to raise more funds – please keep an eye on this page for more information.
I sincerely hope that you will support me in my efforts. Contributions can be made as follows:
to pay with credit/debit card with Visa, MasterCard, Switch, Solo, Visa Delta, please telephone 01267 228686. Please mention that you wish to make a payment to the Chair of Council's account.
Via cheque, made payable to 'Carmarthenshire County Council Chair's Account, and sent to: Eira Evans, Principal Democratic Services Officer (Civic & Member Support), Chief Executive's Department, Carmarthenshire County Council, County Hall, Carmarthen, SA31 1JP.
Can I thank you in advance for your support.
See some of the events the Chair of Council has attended during the last month.
Previous blogs...
February's blog - 1 post