Pendine Outdoor Education Centre

Pendine Outdoors, Carmarthenshire SA33 4PF
Activities
video
photos
How to find us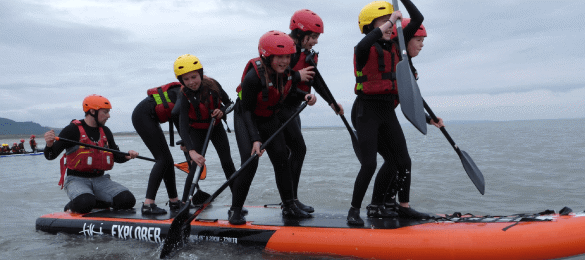 Stand up paddle boarding (SUP)
We have a 17ft x 5ft inflatable Stand up Paddleboard, that can carry up to 8 adults or up to 12 children. Perfect for team building activities.
This is a great alternative to surfing and bodyboarding which aren't always available if the surf is poor. Mega SUP can be used on the sea or in a local lake which we already use for open canoeing and kayaking.
We also have two smaller 15ft  boards that can take a whole activity group between them and will be used for split team competitions.
Abseiling
Abseiling – This is defined as 'the controlled descent down a rock face using a rope'.  Also known as the second fastest way down!!!
At Pendine Outdoors we can introduce the character building activity in the controlled environment of the Centre tower under the expert supervision of our fully qualified instructors. 
Abseiling helps develop confidence and once the participant gets to trust the rope and the instructor they soon overcome any fear of heights they may have; in fact the more nervous clients are the ones who soon get hooked! 
There is also the option of improving your skills by moving onto the local cliffs on Pendine beach or further afield. We carry out abseiling sessions during our expeditions to the Gower and even to Snowdonia. A great experience from age 6 to 90!!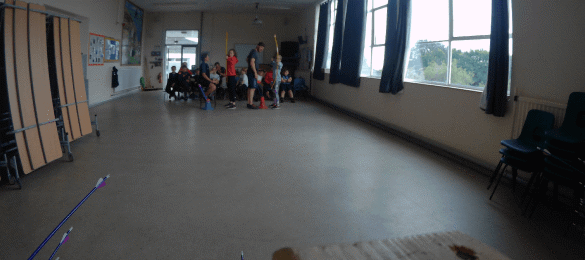 Archery
No sport has played a bigger part in the history of the world than Archery. Here at Pendine, it is probably the most competitive activity we do! Can you get three golds?  
All our introductory sessions take part indoors, initially in a large hall at the Centre. Some of our instructors 
run a local club, Carmarthen archers and instruct to a very high level.    
We also have the use of their large shed just a short drive away.  During our expeditions we sometime set up 'field archery' where the clients get the chance to shoot outdoors, in secluded countryside and under strict supervision of course!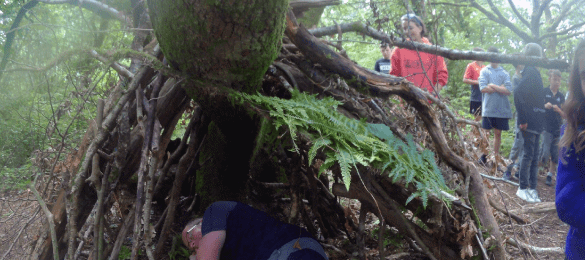 Bushcraft
Bushcraft – Having the use of a local 70 acre native woodland with roundhouses has opened up new avenues for us at Pendine. As well as our stream walk we have Orienteering courses, fire lighting, shelter building and many other character building 'Woodland ranger' skills. We take the youngsters out and encourage them to do what they are discouraged from doing at home; a winner every time! They also learn about nature and respect for the natural environment  and these sessions tend to be amongst the more popular activities we offer. We have also recently completed our very own 'turf roofed roundhouse' which can seat 50 people around a fire pit for a sing song and chocolate covered marsh mallows!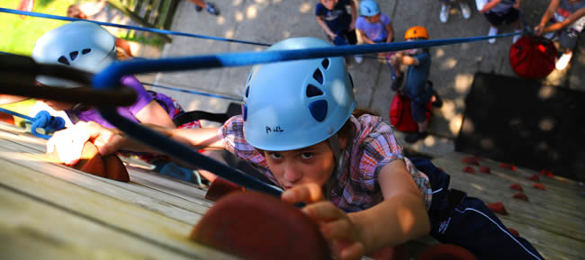 Climbing
We have a variety of climbing options at Pendine dependant on ability, experience and weather conditions. A climbing tower on site gives the perfect introduction to this great sport which can be developed using our outside bouldering wall. 
  
We can continue with performance coaching at our indoor bouldering room and can take the better climbers on to the sea crags. Climbing activities are overseen by a qualified 'MIA' holder.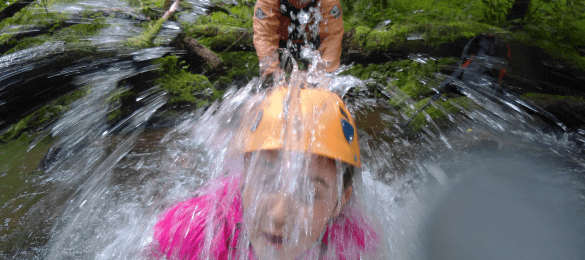 Gorge walking
Gorge walking – We have different levels of Gorge walking depending on the age and ability of the group. We have a junior stream walk in a very picturesque local woodland we call the 'Xtreme stream'. For older groups we can travel to the Neath valley to such beautiful venues as the Sychryd gorge. Transport can be provided  as the Centre has two minibuses.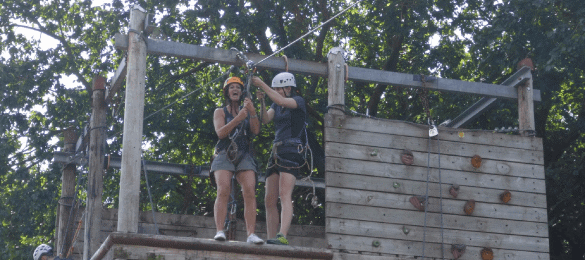 High ropes course
High ropes – Our high ropes course is situated on the Centre grounds and provides an exiting 'aerial' experience. There are various vertical elements to negotiate including balance beams, rope walks and ladders, while attached to a safety rope at all times. This activity helps develop confidence off ground under the strict control of our instructors.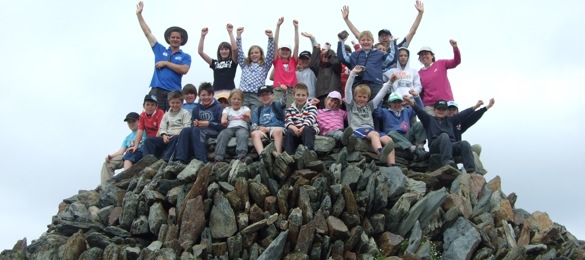 Hill walking
Hill walking – Pendine is very lucky to be positioned within easy minibus reach of the Preseli hills, The  Pembrokeshire Coastal Path and The Brecon Beacons. We also have five qualified Mountain Leaders on our staff and regularly organise weekend expeditions to various exiting venues such as Snowdonia. We have led around 1000 youngsters to the summit of Snowdon in the last few years while also teaching them camping and navigation skills.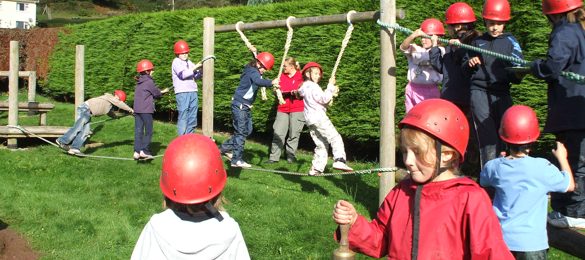 Low ropes
Low ropes – This low level 'assault course' is designed to develop the team skills of any group, whether they are a group of school pupils, students, teachers, accountants or police officers . True personalities really show during this activity and natural leaders get the opportunity to shine through. While negotiating the balance beams and ropes, a Burma bridge, a swinging log and a tunnel system, the groups are given certain objects to carry and are set tasks just to make it more interesting.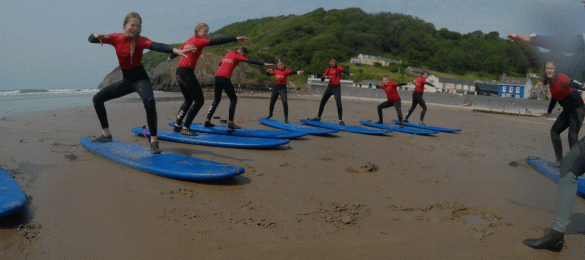 Watersports
Watersports – Pendine Outdoors offers a variety of water based activities. Being just 5 minutes walk from the beautiful Pendine Sands, we are ideally located to take our younger  clients surf skiing and body boarding . Our highly experienced and knowledgeable instructors can also lead sea journeys on the 'sit on tops' around the headland to Morfa bychan and beyond. The Taf estuary is just 10 minutes drive away and is the ideal location for trips in Canadian canoes with any ages. Paddle up the estuary from Laugharne to St Clears on the incoming tide, stop for a bite of lunch while the tide turns and paddle back down.
We also lead river trips down various sections of the Teifi, Gwili and other rivers. If you wish to have a go at combining climbing and watersports, why not try 'Coasteering'. This is a 'full on' adrenalin rush where you swim from one cove to the next, climb the sea cliffs and jump from heights safe in the knowledge that you are with a qualified instructor and that you will be landing in water!
About Pendine Outdoor Education Centre
Pendine outdoor education centre (OEC) is owned and managed by Carmarthenshire county council within the leisure & culture department of the local authority. Situated 200 meters from the historic and beautiful Pendine Sands beach.
Serving the Primary Schools of Carmarthenshire & South Wales and occasionally schools from beyond the Prince of Wales Bridge!  
Enabling them to meet educational requirements that cannot be reached in the classroom.
Providing residential activity weeks that last typically Monday through to Friday.
We also cater for other organisations such as Scout & Guide groups, Rugby and Football groups, Duke of Edinburgh Residential and Expedition groups, family activity days, bespoke outdoor training courses and more including hiring out the site for weddings and events.
Over the past years we have taken a number of schools on day trips to Pen y Fan and the Preseli hills as well as weekend expeditions to Snowdonia. We also offer open canoe journeys and will consider delivering any journey with our experience and qualifications.
All the staff here at Pendine OEC are committed to, and take pride in, the development of the services that we provide. The two fundamental mechanisms or principles we apply to achieve this are:
To facilitate an inspirational learning environment which challenges and develops the potential of all.
To promote moral & ethical attitudes within the community that we, and our clients are citizens of.
Our Instructors have a huge wealth of experience and qualifications amongst them, are specifically qualified first aiders and have gone through a thorough training process before they are allowed to run activities on their own. This means you or your children are in reliable safe hands that ensure a high level of quality and experience if you choose to participate in activities at Pendine.
Follow us on Twitter, Facebook or Instagram for regular updates and information. Alternatively you can contact us on 01994 453659 for more details.
Activities at Pendine Outdoors
'Pendine Outdoors' is ideally located to offer an array of activities to all ages and abilities. The centre is just 5 minutes walk from the beautiful and famous Pendine Sands on the border between the Carmarthenshire and Pembrokeshire Coastal Paths. 
We have developed a wide range of activities suitable for all ages and abilities following many years of catering for the local adventure activity market, keeping up with National Curriculum requirements  and listening to our client's wishes. Suitable activities can be put together into a bespoke package to satisfy the requirements of school groups, cubs and scouts, youth groups, Christian camps, sports teams, teacher INSET days and even something different for that birthday boy or girl from 10 to 60+ years of age.
As many as 100 clients can be taking part in activities on our 4 acre site alone as well all the exiting stuff we offer in the area. Here are a list of some of the more popular activities which can form part of your bespoke package: 
Stand up paddle boarding (SUP)
Abseiling
Archery
Bushcraft
Climbing
Gorge walking
High ropes course
Hill walking
Low ropes
Watersports