Marsh fritillary project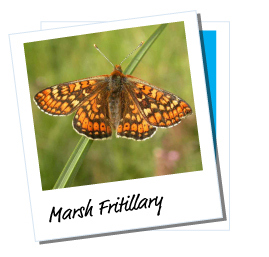 The Marsh Fritillary (Euphydryas aurinia) is a native butterfly which has become increasingly scarce, so much so that is protected by law. Cross Hands and the surrounding area holds one of the last remaining strong populations in Britain, and needs our help to survive. The butterfly can be seen flying on marshy grassland between May and June.
Larval Webs, the caterpillars make webs for protection, and you can see them huddled in these webs in grass tussocks around September, after which the caterpillars hibernate in the base of the tussock.
Devil's bit scabious is the only larval food plant of the Marsh fritillary is Devil's bit scabious, which can be seen flowering in September. The butterfly lays eggs on the underside of the leaves around June and the caterpillars emerge from July onwards to feed until April the following year.
Development
The Cross Hands area is a growth area in Carmarthenshire. Development in the area is identified in the Council's development plans. The project is crucial for ensuring that this can go ahead without having a negative impact on the butterfly's habitat. For every development, a financial contribution is made to the project, which is then used to buy or manage land on suitable sites.
Local Community: An essential part of this project is local people. Working with landowners, educational visits and help from volunteer groups will be really important to ensure the long term success of the project. 
Community Groups and Schools: If you would like to find out more about the project we are keen to hear from you. We are happy to arrange visits and talks for local groups. 
Volunteers: Any time you can give to the project would be gratefully received. We are looking for people who would like to help with surveying, site management (nothing too heavy, things like scrub clearance and fence maintenance). No experience is necessary!
Landowners: With your help we aim to manage suitable habitat for the butterfly in the project area. This means damp marshy fields containing tussocky grasses and Devil's bit scabious. You may even have seen some butterflies flying in early summer. We would be interested in talking to you about managing land in return for an annual payment. How much you are involved with this would be up to you. Management agreements are compatible with the Single Farm Payment Scheme and Glastir. We are also looking for suitable land to purchase.
Livestock owners: Cattle and pony grazing is ideal for managing marshy grassland. Do you have stock available for summer grazing?
Page updated on: 16/03/2018